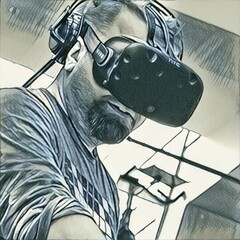 Johnny Haarup
2D/3D Artist
3D College Grenaa, Denmark
Summary
I'm an experienced Graphic Designer. 2018 marked my 20th work anniversary with visual digital products. Throughout my career I've been involved in many aspects of the visual productions which include concepts, art direction, design, textures, backgrounds, level design, interface design and marketing elements.
In 2019 I have added 3d modeling to my skill set by attending 3D College at Grenaa, Denmark. I will now be able to follow the design all the way - from the pencil to final 3D rendering.
After Effect Is also a new discovery and I think there are many exciting AE-projects coming up in the future.

Skills
Art Direction
Concept Art
Texturing
3D Modeling
3D Animation
Storyboarding
Marketing Illustration
QA Testing
AR
Software proficiency
Productions
Mobile Game

Raid Leader

Year

2012

Role

Graphic Artist

Company

Red Zebra Games

Video Game

Hugo: Black Diamond Fever

Year

2001

Role

Graphic Artist

Company

Interactive Television Entertainment

Video Game

Hugo: The Quest for the Sunstones

Year

2000

Role

Cutscene animations

Company

Interactive Television Entertainment
Experience
Art Director at Books & Magic ApS

Copenhagen, Denmark

Book & Magic produces augmented reality games and are using ordinary book as the platform.

I was in charge of defining the visual style and fit the book and in-game environment in tandem with the augmented reality 3D scene and game design.

UI Designer at Hapti.co

Copenhagen, Denmark

Graphic web production for Core Online – a Square Enix developed streaming service. PC games directly on the internet browser. I was responsible for creating the visual framework for the core online site and marketing material.

Co-founder at Red Zebra Games

Copenhagen, Denmark

Senior Graphic Artist at NDS Denmark

Copenhagen, Denmark

July 2006 - December 2010

2008 – 2010: Concept and demo development of future interaction design for tv ads and commercials. Graphic demo and prototype development of tv guides

2006 – 2008: Graphic production and design of more than 30 set-top TV games in close collaboration with clients IPs such as Samurai Jack, Avatar and Dexter.

Art Director at Interactive Television Entertainment

Copenhagen, Denmark

Responsible for designing the visual universe according to game design and guide the concept to console production.

Involved in almost every level and stages of game production. Idea, Story, Concept, Game design, Level-design, 3D-Animation, Sound, testing.

Also supporting marketing and merchandise production. Guiding outsourced production.

Intern + Concept artist at Mondo Media

San Francisco, United States of America

Concept artist at InterActive Vision

Silkeborg, Denmark

November 1998 - January 1999